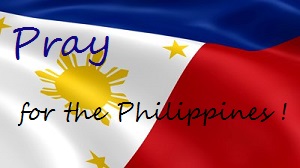 HONG KONG: Hong Kong's Filipino domestic workers made emotional pleas to citizens of the wealthy city to give generously to their typhoon-ravaged homeland, as hundreds attended memorial services to seek comfort in prayer.
In the city's Central district, where thousands of Filipino maids gather on their only rest day, calls for money and goods were made over loudspeakers while some began singing Amazing Grace. Worshippers meanwhile flocked to the city's churches. About 500 people attended a Sunday mass and memorial service at St John's Cathedral where they wept for their loved ones in shattered regions in the central islands. The official Philippine government death toll from Super Typhoon Haiyan now stands at 3,681 and the United Nations says more than three million have been displaced. Tacloban City in Leyte island was especially hard-hit. The slow pace of relief and rescue operations has angered many Filipinos in Hong Kong, with President Benigno Aquino singled out for criticism. "When you are talking (about) … no roof, no food, no water and no electricity, and you responded five or six days later, I think it's not just slow. I think it's crime against the people," Eman Villanueva, who heads a migrant workers' organisation, said.
Cynthia Jaca, a 45-year-old domestic worker, added: "(Aquino) is not capable of ruling the country. He is only good at talking but not action." "He went to Tacloban so late and he is blaming the local people," added Jaca, whose relatives in Samar island survived the storm.