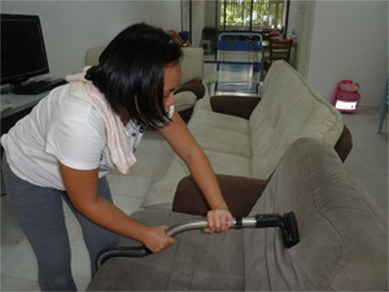 An association of recruitment agencies in the Philippines is temporarily barring its members from sending domestic workers to Singapore, starting from September 2. It wants to convince agencies in Singapore to stop collecting placement fees from maids.
Association of Licensed Recruitment Agencies to Singapore (Alras) president Lucy Sermonia announced the move in a statement to media in the Philippines last Saturday. It followed the association's general assembly last Friday, attended by 120 of its 130 members. The Philippine government's policy is that employers, not the maids, should pay the placement fees – which, in Singapore, average S$2,000 (US$1,580) or four months of their salary. The Philippine Embassy in Singapore has stepped up enforcement in the last year, blacklisting agencies that flout the rules. But Philippine labour attache Vicente Cabe told The Straits Times that the embassy is not involved in the upcoming ban and has not heard of it.
The Association of Employment Agencies (Singapore) has not been officially notified of the ban, said president K. Jayaprema. But she said the move was likely to have limited impact, as the Philippine association has control over only its member agencies. "There are non-members which will still continue to deploy maids here." She added that agencies can still hire maids who arrive on their own and those from other countries. About 70,000 of the 209,600 maids in Singapore are from the Philippines.
Orange Employment Agency owner Shirley Ng is one of those who will be hit – even though her agency does not charge placement fees. The two Philippine agencies she works with are Alras members. "Why should you penalise those who are playing by the rules?" she said.